Fine Art Equine Photography.
For me Equine Photography, is all about the bond between Rider and Horse...its the bond that comes through the finished images, its the atmosphere when on location that translates in my work, its capturing that love that we feel for an Animal , its the mood that's created when an owner smiles at their favourite Horse, its the shadows that form across your Horses back, as the sun streams in through the trees. Its the breath of your Horse as its gaze wonders across open fields....
For me capturing this connection helps to bring that extra dimension to my work and finished images.
I work along side my Husband, Chris. Who has over 20 Years of experience, working with Horses and is always on hand to offer support when needed.
***
Fine-Art Equine Photography
**Friendly Phone calls, with advice on Outfit selection and Location choice.
**Up to Two Hours on Location, for You and your Horse.
**Location or Home/Location.
**Up to Two Outfit changes.
**A USB containing a selection of the best shots from the Shoot. Full Resolution for your personal use/Family ect (these can be printed).
**A second selection of Watermarked images for use on social media.
Cost;
£225.00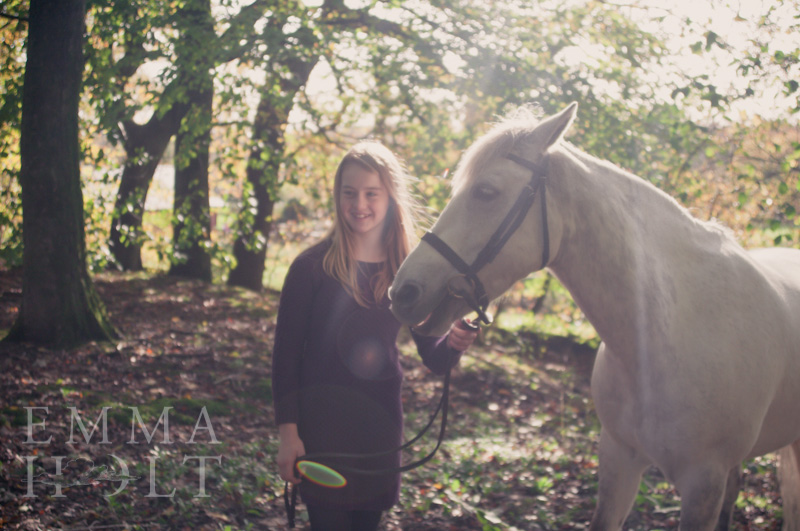 Extras;
***Professional Prints can be purchased at extra cost;
**A4 - £25.
**A5 - £15.
Other sizes/prices are available on request.
**Gift Vouchers (Available from £10, these can be used as full or part payment).
Important information.
Your Horse is your responsibility, Emma Holt or any persons working for/with Emma Holt Photography, can not be held responsible for any injury caused to you/Rider/Owner or the Horse, whilst at the Photoshoot. Please consider the health/safety of your Horse/Rider when choosing your Location. During the Photoshoot, there maybe quite a lot of time standing around, please ensure you are prepared. Example;( bringing treats, Polo mints for your Horse).
If a Photoshoot has to be cancelled due to; weather, illness, ect, It will be possible to reschedule your Photoshoot for another available date/time.
If traveling more than 20 miles from the BB5 area, then the cost of fuel maybe added to the overall cost of your Photoshoot.
A deposit of £50 will be taken at time of Booking.
I don't believe in rushing your finished Photographs and I don't believe in a 'conveyer belt' style of working. Images will take 2/4 weeks to be completed, it may take longer if the USB has to be posted out to you.
To book, please fill in the Contact Form or email emma@emmaholtphotography.co.uk